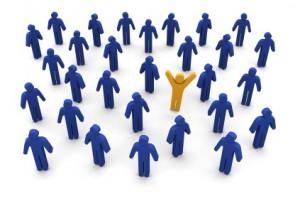 A social network is an online service that helps its members build social relationships with people who share similar professional or personal interests. Social networks are an excellent way to create relationships among people online. However, the desire to segment the network depending on interests and offline relationships is on the rise. Hence, many site creators are turning toward niche social networks. In contrast to a regular social network, a niche social network is targeted toward a specific audience with featured content which helps them attain relevant information without the need for filtering or sorting. Though many people have a preconceived notion that creating a social network requires a big budget and high technical acumen; in reality this isn't necessarily true. We feature just three steps, demonstrating that building a niche social network is not a complicated task:
Decide on the Purpose

Develop the Site

Launch and Promote a Niche Social Network
In this first part of our article, we would like to introduce the first step to make a Niche Social Network "Decide on the purpose".
Step 1: Decide on the purpose
    1.   Concept
The more detailed your understanding of your niche, the better off you will be. Your niche can be whatever you want it to be, but in the initial stages of the project, you need clarity about the purpose of the site. Do you want to build a tourism community? A network for knitters? Or do you want to create a social network that connects shopaholics? Also important are future considerations for the website. Do you want to monetize it eventually? To identify your niche, figure out how you can differentiate yourself from your competitors and in what area you can specialize. Ask yourself these questions:
What do I enjoy doing? Even within your chosen field, there are some things that you prefer to do more than others. What do you feel most passionate about? Paying attention to what you like is important, since your interests can generate innovative ideas that may attract more users to your niche community.

Where do I have the most experience? Think about areas in which you do good work. Experts do not necessarily agree on whether it is more important to have a passion for a special niche or to understand a gap in a particular market that you can fill. But most agree that both are necessary to your success in specialization. Focusing on your strengths will benefit your business greatly.

What is my target market? A target market consists of your ideal customers. These are the people who would be interested in buying your products or services. Of course, the target market can't be "everyone."Remember: "the more specific a market, the more dedicated the fans within will be."Narrow down your ideal carefully.

Who values my services? A more limited audience of niche social networks can be a significant benefit for both you and your users. Think about the users you've worked with and identify the ones who really understood the value of what you were offering to them and were happy to pay your fees. What do they have in common? Having a clear vision of your expected customer base will increase your chances of business success.
Once you have identified your niche, start seeing what's out there in a related area. Join a new niche community and observe its activity. Make note of the features and tools that are provided by current websites. You should note what you like and dislike about the way the community operates, from the platform to the members. These actions will help you determine what you can add to your own website so that you can offer services or resources that the site's visitors won't be able to find anywhere else.
    2.  Name
The next step to create a niche social network is to register a good domain name, including the .net, .org, .info, and some of the main country specific variants (e.g.co.uk). Of course, your domain name should fit closely to your niche field.
Whatever your goals and purpose are, you will need some kind of budget to make it work. Let's take a look at the typical costs:
Hosting plan

Script (a complete software solution that you can download for your site)

Logo/graphic design

Developers(to customize your social network site, you may need to hire developers)

Marketing (optional; marketing your site on search engines can easily be done using Google AdWords)
Let's finalize your purpose and start making your ideas a reality. Next week, we will introduce you two remaining steps: Develop the Site and  Launch and Promote a Niche Social Network.